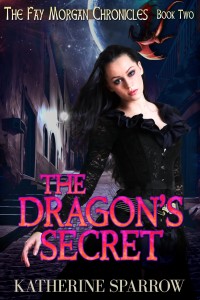 The Dragon's Secret is not her perfect pancake recipe that happens to be vegan.
The Dragon's Secret is not dabbing lilac essential oil on her wrists for that all day fresh feeling.
The Dragon's Secret is not that she's a giant fire-breathing lizard with a heart of gold.
The Dragon's Secret is my second book in the Fay Morgan Chronicles, released today and flying around the internet ethers to be consumed by you and you.
The Dragon's Secret continues the tale of a modern-day Morgan le Fay who has to fight and solve the mystery of the shadowy knights who have somehow managed to capture the world's most powerful dragon. On top of that, she has to protect the only man she's ever loved who seems set on throwing himself in harm's way for the sake of that ancient dragon and the hidden history between them that has laid buried for eleven hundred years.
Link here.