The third book in the Fay Morgan Chronicles, The Witch's Hunger, is alive and living in Amazon world! I'm so excited to get this story out into the world, and hope you love it. It's a trickier book than the first two, in that some of the longer plot arcs get revealed, while other parts.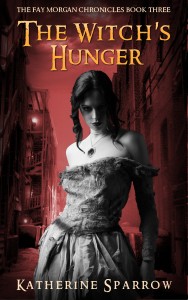 The Witch's Hunger? Is Morgan le Fay the witch who is hungry, you may be asking? Yes indeed, but the question is, hungry for what? Read the book and see.
On another note, apologies to anyone who pre-ordered the book. You probably got a pre-order cancellation not about it. Due to some misreading on my part of the uploading process to Amazon, things went quickly and terrible wrong. In fact, I believe I was heard muttering at 3 a.m. last night "I'm ready to be stressed out about something else." I hated to have them cancelled, because I did have the book ready to go in time (hence its publication today), but so it goes.
And last, should you want to write a review on Amazon, please do! (And thanks.)