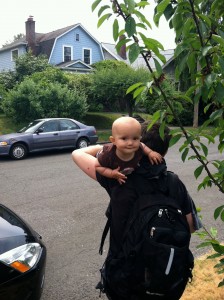 (Obligatory cute picture of the first kid and me.)
I wrote a guest blog over at Kiki Cares about being a parent and getting stuff done:
http://kikicares.com/2016/01/04/parenting-and-productivity/
And here's what I wrote:
First off, thanks to Kiki for letting me do a guest blog on her lovely site! I had the pleasure of talking with her about nannying and loving kids over this Christmas break, and it struck me what deep and profound work it is taking care of little ones, whether you are a parent, a nanny, or someone else important to a child. Today, I wanted to say a couple of things from the parent side of life.
Before I had kids, I thought parents were such drama queens. I thought they were like those kids in high school  who loved to go on and on about how they'd only had two hours of sleep last night and oh my gosh, my life is so hectic and exciting. I felt sure parents were like that. It couldn't really be that hard, right?
Then I had a kid and realized, holy hell, those parents were underselling it. My days filled up from dawn to dusk with the exhilarating, tedious, and lucky work of getting to be with my kid.  And then I had another one and that wall of work? It just got more frenetic and full and have I mentioned I love being a parent? But it is also the most difficult thing I have ever done, especially because while I get to be a stay-at-home parent, it is not the only work I do. I also do fundraising for a non-profit, am the administrator for a monthly writer's workshop, and write a lot of young adult and adult fiction. It's a great plate and a full plate.
What I have learned in the last five years of doing all this? What I want to tell you, and what I want to tell myself? We are not going to get everything done.
We just aren't. Every day I have things I want to do that I don't get done, and sometimes that thing should be so easy, like taking a bath, but it just doesn't happen.
I want to frame any of these moments not as a failure, but the truth of life at this moment. And life at the moment is a bit messy, definitely chaotic, and has more heart and laughter than ever before.
So, here's what I think we should do. Make a list of all the things we aren't getting to. Super fun, right? But go ahead and make the list and put every damn thing on it small and big.
Look at this list. Sigh at this list. Blow kisses at this list and the idea it embodies of an organized and gentile life. Then look at your kids and make yourself cross three things off that list. Three things you are not going to care about and are vowing to not get done. Things for today, or the week, or the month that you are not even going to try to tackle.
Then go play with your kids. Crawl around on your floor while you all play the "magical unicorns who can turn into other animal and now we are crabs and now we are kittens" game, or whatever ridiculous and fun thing your kids want to do. Because in the span of your life? The kids will be grown soon and you can get back to all your things. So if you can, if you are able, right here and now? Let things slip and slide. Let them get messy and stay messy even if it drives you a little mad. Forget to send out holiday cards. Let your hair grow long and frumpy. Build that duplo tower that goes all the way to the ceiling and when they knock it down? Laugh and start all over again.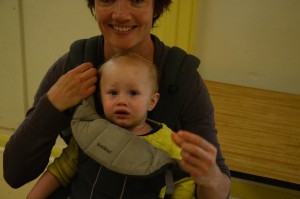 (Obligatory cute picture of the youngest and me.)