Last Saturday I showed up at the UW Bookstore at 3:45 feeling pretty sick to my stomach that I was going to have to stand in front of people and talk about my book. Ugh. The spotlight is not my thing. Additionally, I had no idea if anyone was even going to show up to the event. Did I remember to invite people? I was pretty sure I had, but I was also thinking about who I had forgotten to invite and really, my head was a nervous wreck. Immediately upon entering the store, I spied people I knew browsing books all over the place. I saw my Clarion West mentor, my next door neighbors, and even a friend from high school. Lots of hugs and congratulations ensued before I made it upstairs to see this lovely display: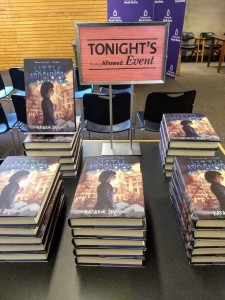 Okay. The book store had remembered I was coming and even had my books. Phew. I chatted with the very nice book store employee while more people floated upstairs, including my parents, my sister and members of her book club, some writer friends, and old housemates. It seemed, at the very least, like there would be some people to fill the seats. Oh! And I ran into this kid, who has a character named after her in the book: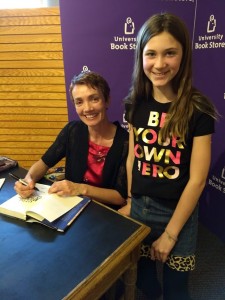 Then the clock hit four and I knew I should probably wait a little bit to get started, which is the Seattle style, but I just couldn't. Before you knew it I was behind the podium speaking about writerly secrets and going on and on about why I wrote this book and how people can support debut authors. I looked something like this: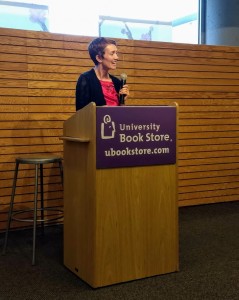 What you can't see, and what I wasn't smart enough to remember to take a picture of, is the crowd, which grew and grew while I talked. People had to grab more chairs and expand out into the bookstore and everywhere I looked there were smiling people who had come out to celebrate me and my Little Apocalypse. It was so huge. It made my heart grow bigger. Over sixty people showed up to launch my book into the stratosphere. I read some pages of it. People seemed to like it? Then it was time to sign books, and the line snaked and stretched all over the place. I couldn't stop grinning as I signed every book and the employee had to run downstairs to try to find more copies. Oh, it was so lovely. And then it was drinks at Flowers and laughing with old friends. Sometimes I don't know what I'll make a deep memory of, but other times a moment is so shiny and perfect that I know it will stay with me forever. Thanks to all of you who made my book launch perfect.