Hi! Thanks for coming to my website. I'm Katherine Sparrow, middle-grade, young adult, and adult fiction writer for humans of all ages. I have my debut middle-grade book, LITTLE APOCALYPSE, coming out with HarperCollins on March 12th 2019, and I can't wait to hear what you think of it. It's the story of a lonely girl, a city in ruins, and all the strange adventures and friendships she finds.
I started writing a while ago because I've always loved books and how sneaky they are. Like, sometimes they take you somewhere fun and exciting, and other times they change minds and save lives, and you never know what you are going to find. I've been nominated for a Nebula Award, attended the Clarion West Writers Workshop, and organize workshops in Seattle for writers at all parts of their journey.
When not writing, I spend my days chasing two littles around, enjoying Seattle's ample and lovely gloom, an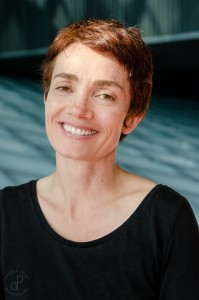 d planting things in a garden that mostly molds.
I'm represented by the wonderful Linda Epstein with the superb Emerald City Literary Agency.
Email contact@katherinesparrow.net, add yourself to my newsletter (which I don't send out very often), or follow me on Twitter @Katie_H_Sparrow.
I am available for school visits and library events. I can do presentations on the writing process, how to edit your own writing, or run a workshop on making monsters and imagining how to vanquish them. I am available in person and remotely via Skype.
F.A.Q.
Where did the idea for LITTLE APOCALYPSE come from?
I was sitting in a theater watching a movie about monsters that hurt people, but in the movie everyone thought it was cool. I got really mad, because I don't think people getting hurt by others is ever okay. Then I got a big idea, and it was to write this book about monsters that really cared how and why people get hurt.
So then how did you write it?
I wrote the whole thing, then saw how wrong it was. So I wrote it again and again. Then I got some writer friends to read it and tell me all the things that were wrong with it. I rewrote from there, and showed it to my agent. She had a lot of opinions about it,  so I rewrote it again.
That sounds like a lot of work.
Yep.
Was it worth it?
I hope so.
Did you like writing it?
I loved it! I'm one of the lucky writers who really enjoys writing. Thanks for asking.
You've also written a bunch of short stories and an urban fantasy series, THE FAY MORGAN CHRONICLES. What do all these stories have in common with each other?
On the surface, nothing. Sometimes my stories are about computer geeks on a pirate ship, other times they are immortal witches solving crime in Seattle, or a lost girl trying to find her way after a magical earthquake. All pretty different, right? Except, because the same person is writing them, they do have some things in common. Namely, they are all about people trying to be free and getting more people free in various ways. Also, I tend to usually have a group of  ragtag misfits who somehow, against all odds, triumph.
Do you like being a Sparrow?
I love it! Sparrows exist all over the world, and they are always that little unimpressive bird that no one pays that much attention to, which sort of reminds me of the people I like best in this world.
What else?
Um… I don't know. One of my favorite things is walking around a city and seeing places I didn't know existed. I live in Seattle, and even though I've been here most my life, I am always discovering secret staircases, graffiti murals, and empty lots with interesting trees. I love books that surprise me. Even though I'm a grown up, I'm still working on growing up.