Hi! Thanks for coming to my website. I'm Katherine Sparrow, middle-grade, young adult, and adult fiction writer for humans of all ages. I have my debut middle-grade book coming out with HarperCollins in January 2019, and I can't wait for people to read "Little Apocalypse". It's the story of a lonely girl, a city in ruins, and all the strange friendships she makes.
I started writing a while ago because I've always loved books and how sneaky they are. Like, sometimes they take you somewhere fun and exciting, and other times they change minds and save lives, and you never know what you are going to find. I've been nominated for a Nebula Award, attended the Clarion West Writers Workshop, and organize workshops in Seattle for writers at all parts of their journey.
When not writing, I spend my days chasing two littles around, enjoying Seattle's ample and lovely gloom, an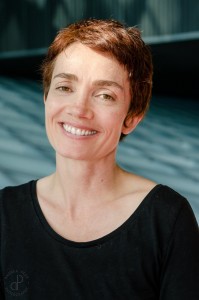 d planting things in a garden that mostly mold.
I'm represented by the wonderful Linda Epstein with the superb Emerald City Literary Agency.
Email contact@katherinesparrow.net, add yourself to my newsletter (which I don't send out very often), or follow me on Twitter @Katie_H_Sparrow.